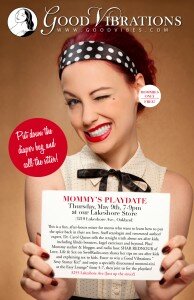 Please join me in Oakland for
Special Mothers' Day Mommy's Playdate at Good Vibrations
Thursday, May 9th
Happy Hour: 5:00 pm – 7:00 pm at the Easy Lounge, 3255 Lakeshore, just up the street!
Mommy's Playdate: 7:00 pm – 9:00 pm
FREE!
Put down the diaper bag, hide from your teenager, and forget the in-laws. It's all about YOU Darling this week yes, Good Vibrations has scheduled a special Mommy's Playdate just in time for Mother's Day, a fun, after-hours mixer for moms. Staff sexologist and renowned author/expert, Dr. Carol Queen tells it like is about sex after kids, including libido boosters, kegel exercisers and beyond. Plus! Mommy author and blogger and radio host Shar Rednour of Love, Life & Sex on SwirlRadio.com shares her tips on sex after kids and explaining sex to kids. Join like-minded moms at this fun, mommies-only mixer. Plus enter to win a Good Vibrations "Sexy Starter Kit!" Enjoy a specially discounted mommi-tini at the Easy Lounge* from 5-7, then join us for the playdate!